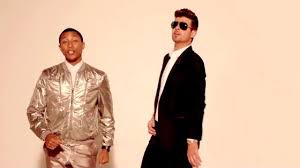 You can find plenty of commentary on whether the Ninth Circuit Court of Appeals ruled correctly when it upheld a jury verdict that "Blurred Lines" infringed the copyright in "Got To Give It Up." But another aspect of this decision has received little attention, and that is a mistake made by trial counsel for the Williams/Thicke defendants in this case.
One of the things that keeps lawyers awake at night (or should) is the risk that they will unknowingly waive a client's legal rights. I wrote about this in 2008 (Traps for the Unwary – Waiver), and again in 2010 (Mister Softee Bitten By Waiver Under FRCP 50 ). In the 2010 post I observed that Microsoft's failure to move for judgment as a matter of law ("JMOL" in legal jargon) under Rule 50 may have cost it several hundred million dollars.
The bottom line is that lawyers always need to be alert to the risk of a waiver.
When it comes to waivers during trial, one of the biggest mistakes a lawyer can make is to fail to move for JMOL before jury deliberations, and to then timely renew that motion after trial if the jury verdict makes it necessary. Failure to make these motions puts a losing party at a significant disadvantage on appeal: the party will be precluded from challenging the sufficiency of the evidence supporting the verdict.
This was the error in the Microsoft case, and it occurred once again in Gaye v. Williams. This was a high profile case, and it would be reasonable to expect the lawyers for Williams and Gaye (and their publisher) to avoid this mistake. The Ninth Circuit addressed their failure to file Rule 50 motions as follows:
The Thicke Parties . . .  failed to make a Rule 50(a) motion for judgment as a matter of law at trial. Their failure to do so "precludes consideration of a Rule 50(b) motion for judgment as a matter of law."   

This procedural limitation is well worth underscoring. We held, in a case in which a party made an oral Rule 50(a) motion, but failed to renew its motion, that the party "waived its challenge to the sufficiency of the evidence because it did not renew its pre-verdict Rule 50(a) motion by filing a post-verdict Rule 50(b) motion."  . . . We further held that. . . a party's failure to renew a Rule 50(a) motion "precluded [us] from exercising our discretion to engage in plain error review." . . . Thus, when we stitch together Rule 50's requirements with our case law, we are left with this result: Because "a post-verdict motion under Rule 50(b) is an absolute prerequisite to any appeal based on insufficiency of the evidence," . . . and because a Rule 50(a) motion is, in turn, a prerequisite for a Rule 50(b) motion, . . . an advocate's failure to comply with Rule 50's requirements gives us serious pause, and compels us to heighten the level of deference we apply on appeal.
This was an important case, with a lot at stake. After their unsuccessful appeal Thicke and Williams are faced with a $5 million-plus judgment, an ongoing royalty obligation of 50%, and very little chance that they can persuade the Supreme Court to take this case and change the result. Whether the outcome would have been different had their lawyers filed Rule 50 motions is impossible to say. However, in litigation you need every advantage you can get, and waiving your ability to challenge the sufficiency of the evidence on appeal is not a trivial mistake.
To be clear, Federal Rule of Civil Procedure 50 requires that a party move for judgment, with specificity, on every issue before the case goes to the jury (Rule 50(a)), and then again following the verdict if the jury finds against the party (Rule 50(b)). Failing to file either motion will compromise the party's ability to raise the issue on appeal – in other words, it will result in a waiver.
Why Pharrell Williams and Robin Thicke's lawyers failed to make these motions will likely never be known. Nor can we know whether, had they done so, the outcome on appeal would have been different. But we, and their clients, can be left to wonder.
**********
Rule 50(a)(2):
A motion for judgment as a matter of law may be made at any time before the case is submitted to the jury. The motion must specify the judgment sought and the law and facts that entitle the movant to the judgment
Rule 50(b):
If the court does not grant a motion for judgment as a matter of law made under Rule 50(a), the court is considered to have submitted the action to the jury subject to the court's later deciding the legal questions raised by the motion. No later than 28 days after the entry of judgment . . . the movant may file a renewed motion for judgment as a matter of law.
For a more detailed discussion of this issue see Preserving Sufficiency, Tips for Avoiding Forfeiture of Sufficiency of the Evidence Arguments Under Rule 50.